Your Feet will Feel Great
Customized footwear makes all the difference.
Whether we build you a set of My Foot Rx custom foot orthotics, modify a pair of your shoes, or professionally fit you in a pair of therapeutic shoes, we will work to help your feet feel great.
Patient Services
Orthotics Services
If you are on your feet all day, custom foot orthotics can help make your work shifts more tolerable. Do you want to stay active? Custom foot orthotics may be the solution for you. Whether you want to get out of the chair or work all night, give us a call, we can help!
Individual Consultation
Why do your feet hurt?
Meet with ABC Board Certified Pedorthist Bob Mc Roberts Jr. for a one-on-one consultation at one of our convenient locations. You will receive a comprehensive evaluation of your feet, identifying any issues impacting your feet, and an assessment of your challenges and needs. It is extremely important that Bob evaluate your current footwear and shoe liners. He will look for wear patterns to determine why your feet hurt. This is why Bob has a very high success rate in reducing or eliminating peoples foot pain. If he finds something that warrants a Podiatry visit, he will refer you to a great podiatrist in your area. After the evaluation, your feet will be professionally measured and a personalized mold will be created to serve as a model to design your custom orthotics.
We then fabricate your custom orthotics and may customize your shoes to accommodate any deformity or hard to fit areas of your feet. Along with your personalized product, you will receive detailed instructions for a wearing schedule and care of your orthotics. Schedule an appointment today to start enjoying the benefits of customized therapeutic footwear.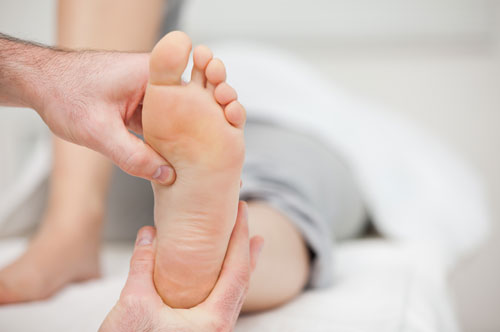 Accommodating Everyone
My Foot Rx makes every effort to accommodate those with special needs or disabilities. Our facility provides easy access for all of our patients including extra wide doors for wheelchairs, front door parking, and a flat entry to the front door. The hallways are extra wide, and we have a wheelchair-height shoe display and a handicap accessible service counter. The main patient room has a 600 lb. rated lift chair for patient assessments.
About Prescription Orthotics
What are Prescription Custom Orthotics?
Prescription orthotics are custom designed and individually fabricated to provide optimal support by carefully matching the contours of your feet and considering the way you move. Your Podiatrist or other medical professional will prescribe custom foot and ankle foot orthotics, and we fill that prescription based on your provider's instructions. We have worked with area providers for years successfully taking care of their patients. Prescription orthotics can often be paid for by your insurance.
About Custom Orthotics
Orthotics can effectively treat foot and ankle pain as well as knee, hip, and back discomfort.
Medical grade custom orthotics are specifically designed to comfortably support your feet. They are custom-made to accommodate the way you move and to precisely fit the contours of your feet, expertly fabricated from a three dimensional model of the foot.
Fabrication materials for the foot Orthotics are selected specifically for each patient. Custom foot orthotics are uniquely fabricated for each patient to promote comfort and provide effective ankle and foot pain relief. Your custom-made orthotics can last for years with proper care.
State-of-the-Art Lab
The My Foot Rx custom orthotics lab is located in our Bloomer facility. Custom, locally-made foot orthotics provide the benefits of exceptional quality control, seamless customization, short lead times, and a highly accurate fit. Adjustments are normally done on site saving time and not requiring extra appointments.
We offer the latest materials and manufacturing techniques crafted by highly skilled technicians and will quickly meet your individual requirements for specialty shoe work.
Patient Services
Featured Orthotics Products
Ankle Foot Orthotic Gauntlets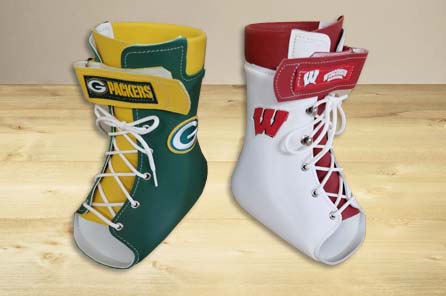 Ankle gauntlets are most commonly used to help those with arthritis and posterior tibial tendon dysfunction (PTTD). They also may be beneficial for patients suffering from chronic ankle instability, chronic Achilles tendinitis, tarsal tunnel syndrome, degenerative joint disease, or Charcot foot. The Ankle gauntlet is considered the gold standard for reducing pain and provides superior support, total contact, and accommodation.
Accommodative Foot Orthotics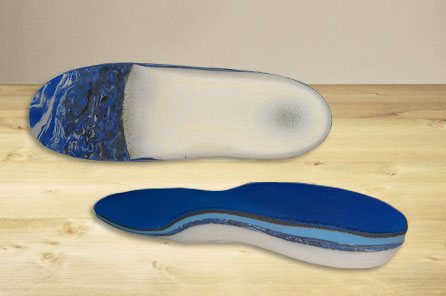 Accommodative foot orthotics help to cushion or relieve pressure for painful or injured areas of the bottom of the foot. They also may help to control abnormal functions of the foot. Accommodative foot orthotics provide great cushioning and are softer and more forgiving functional foot orthotics. They are made of a variety of materials including EVA, cork, and Plastizote Foam. They are useful to treat painful callouses on the bottom of the foot, sore bones on the bottom of the foot, diabetic foot ulcerations, and other foot pathologies.
Diabetic Shoes & Inserts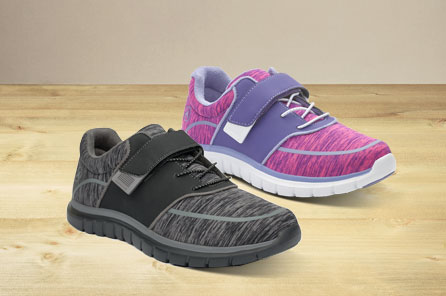 Diabetic shoes are specially designed to protect diabetic feet. They reduce the risk of skin breakdown and lack of sensation in the feet. They must be prescribed by a physician and fit by a certified pedorthist. Diabetic shoes provide:
A soft interior and no protruding stitching
Soft, non-binding and stretchable uppers with no overlays
Orthotic arch support reduces pressure
Extra-depth for insoles or orthotics
Extra toe room in deep toe-box for deformed toes
Lateral Buttresses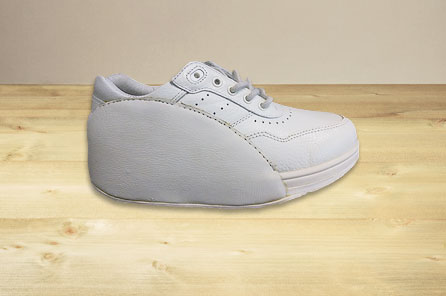 Lateral buttresses are helpful for patients who have excessive lateral movement of the foot and ankle. They also are helpful for those with recurrent ankle instability, a wide stance, and patients who are overweight.
Designed to provide additional external support, the buttress covers the lateral hindfoot and midfoot and is made of a stiff material which prevents lateral rolling of the hindfoot by providing added strength and stability for those with excessive pronation disorders.
The Richie Brace
®

AFO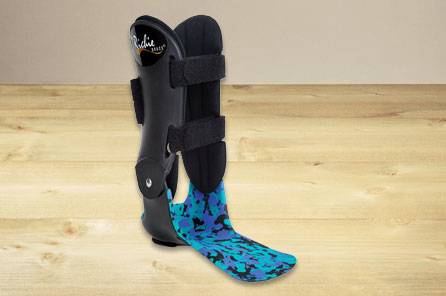 The Richie Brace® is a custom ankle-foot orthosis that has revolutionized the non-operative approach to the most challenging foot and ankle pathologies. The brace helps to treat chronic conditions of the foot and ankle with a contoured balanced orthotic footplate which is articulated to adjustable semi-rigid lower leg uprights. The Richie Brace® is designed to stabilize rotational forces at the subtalar, midtarsal, and talo-crural joints. Optional enhancements and modifications and enhancements can be employed to add more restriction of motion in the frontal, sagittal, or transverse plane.
Orthotic Toe Filler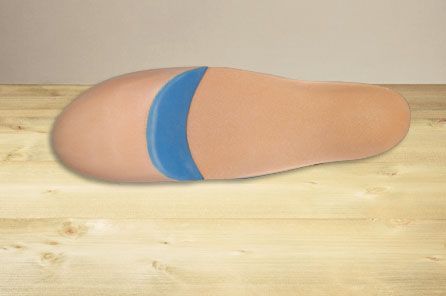 A toe filler prevents the shoe from collapsing and possibly causing irritation on the end or top area of an amputation site. It also helps the foot from moving around in the shoe causing more issues with the remaining toes or other soft tissue. A carbon fiber plate is added with some toe fillers to provide a lever arm for toe off during propulsion of the gait cycle.
Functional Foot Orthotics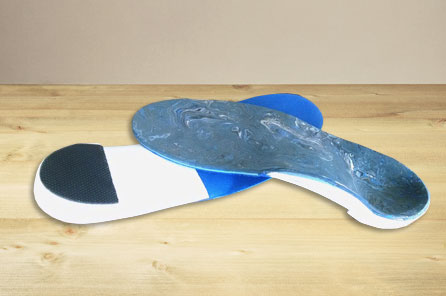 Functional foot orthotics help to correct abnormal foot function and are made of rigid or semi-rigid plastic or graphite materials. Functional foot orthotics are relatively durable, thin inserts that are easy to fit into most types of shoes. They are helpful in the treatment of a variety of painful foot and lower extremity conditions including arthritis, plantar fasciitis, metatarsalgia, pronation, supination, and heel pain or spurs.
UC Berkeley Lab (UCBL) Foot Orthotic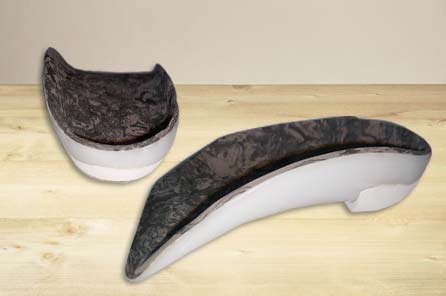 Developed at the University of California-Berkley Lab, the UCBL (University of California Berkeley Laboratories Shoe Insert) is a custom-made, rigid foot orthotic which stabilizes a flexible foot deformity. Unlike other foot orthoses, the UCBL fully encompasses the heel with a molded heel cup. The UCBL controls the inside arch of the foot and the outside of the forefoot while correcting and holding the heel in a neutral position, providing superior control.
Subtalar Control Foot Orthosis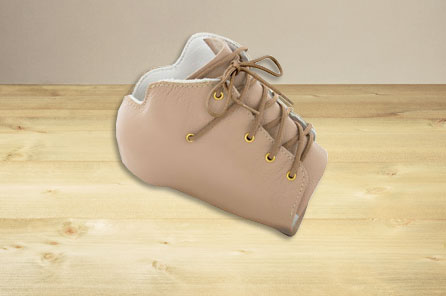 Subtalar Control Foot Orthosis (SCFO) helps to manage the function of the ankle joint by holding the heel in a neutral vertical position; it controls the range of motion of the subtalar joint. This orthoses easily fits in a standard shoe and is lightweight. SCFO can improve Peroneal tendinitis, Subtalar joint osteoarthritis, Posterior tibial tendinitis, Posterior tibial tendon dysfunction (I and II), Sinus tarsi pain associated with acquired pes plano-valgus deformity, Talonavicular arthritis, and Tarsal coalitions.
Customized Rocker Soles
Rocker soles can change the timing of your gait cycle and/or stride length and restore range of motion lost in the foot or ankle due to injury or arthritis. They help to unload sensitive parts of the foot, reduce calluses, and prevent ulcers. A steel shank may be used with the rocker sole if more rigidity is required.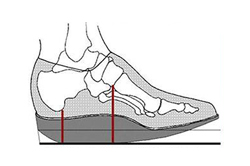 Ankle Joint Rocker
Inhibits demand for motion in the ankle joint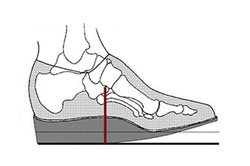 Lisfranc Rocker
Reduces propulsive force to midfoot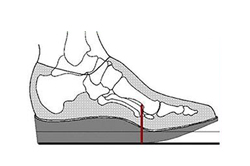 Met-Head Rocker
Reduces ground-reactive forces to ball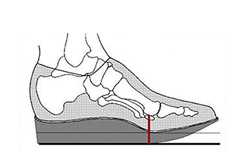 MPJ Rocker
Inhibits demand for dorsiflection of toes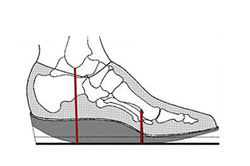 Heel Rocker
Elevations are useful to compensate for limb length discrepancies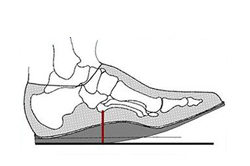 Healing Rocker
Holds foot dorsiflexed to off-load forefoot
Orthotic Specialty Products
Custom & Therapeutic Shoes
Custom shoes are specially designed for each patient to help address challenging fitting issues for those with special mechanics deficiencies or foot deformities from conditions like severe arthritis, polio, or complications due to diabetes. Custom shoes are often covered by insurance.
Therapeutic shoes allow for the appropriate amount of space for your toes and may include liners or pads to provide comfort for patients with callouses, ulcers, or painful pressure points. Therapeutic shoes may be prescribed for patients who suffer from diabetes, arthritis, plantar fasciitis, metatarsalgia, bunions, and other painful foot conditions.
Pedorthic Shoe Modifications
Pedorthic footwear modifications can also be performed to make shoes more comfortable by adding support, providing cushioning, and relieving stress and pressure points. Pedorthic shoe modifications, in conjunction with foot orthotics, can help remove pressure from sensitive or at-risk sensitive areas of the foot.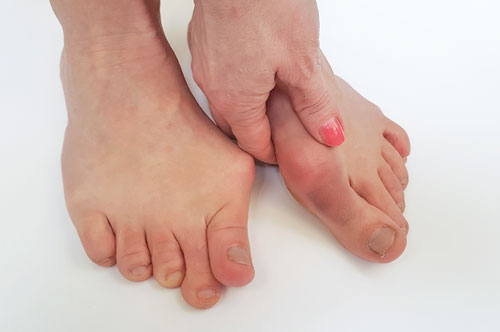 Custom shoe modifications are key to helping those who require custom shoes because of advanced foot conditions including toe or forefoot joint deformities or are receiving specialty wound care to make room for an enlarged or painful area of the foot. They also help to realign or rebalance the musculoskeletal system to help control motion and accommodate fixed deformities.
Ready to get started?
Contact us today!
Sole flaring provides additional leverage and helps to control the heel by increasing the base support.
Lateral flare medial stabilizers widen the shank of the shoe and allow a deformed collapsed foot additional room through the mid-foot. Widened shanks help patients who cannot fit into a standard sized shoe. Those with a collapsed foot or diabetes require the additional support and extra room to relieve excessive pressure on their feet and prevent the development of an ulcer.
Medial stabilizers or medial buttresses help patients who require additional support on the inside of the foot. For this modification, the outside skin of the sole is cut and peeled back, and the medial aspect of the shoe is built up with black crepe that is perfectly sized and smoothed. When the shank is widened and the medial part of the shoe reinforced, the outside skin of the sole is replaced to conceal the modifications so the wearer does not feel conspicuous.
Shoe midsole excavations and fills are used for patients who have severe calluses, bony protrusions, or an ulcer. This modification provides offloading and can effectively provide pain relief for these areas.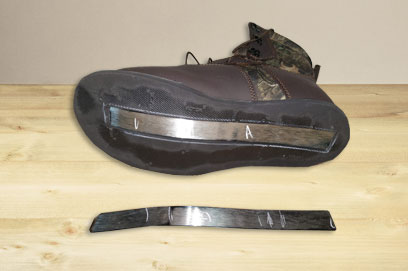 Extended steel shanks make the shoe sole rigid so it will not bend. They limit the range of motion and help to reduce pain in the mid and forefoot joints. They work with a mid heel to toe rocker with help with toe off and heel strike.
A metatarsal bar is a thin, tapered piece of 1/4 inch material added to the sole of the shoe behind the metatarsal head region of the foot that joins the shoe heel. This is a great modification to relieve painful metatarsal heads.
A zipper addition allows easier entry for patients with a brace, a rigid foot, or those who are unable to tie their shoes. Velcro additions, hook and loop additions, and pull-side switch or extensions also allow for easier entry or closure for those who do not have good use of their arms or fingers. A strap extension helps with very wide feet or swelling.
My Foot Rx will help you select the perfect shoe to accommodate your new custom orthotic. We recommend several therapeutic shoe brands which offer a number of quality options including diabetic footwear in a variety of colors and styles. We are constantly researching shoe companies and their new products and will find a very good shoe fitting solution for you!