Custom & Therapeutic Shoes
Custom shoes are specially designed for each patient to help address challenging fitting issues for those with special mechanics deficiencies or foot deformities from conditions like severe arthritis, polio, or complications due to diabetes. Custom shoes are often covered by insurance.
Therapeutic shoes allow for the appropriate amount of space for your toes and may include liners or pads to provide comfort for patients with callouses, ulcers, or painful pressure points. Therapeutic shoes may be prescribed for patients who suffer from diabetes, arthritis, plantar fasciitis, metatarsalgia, bunions, and other painful foot conditions.
Pedorthic Shoe Modifications
Pedorthic footwear modifications can also be performed to make shoes more comfortable by adding support, providing cushioning, and relieving stress and pressure points. Pedorthic shoe modifications, in conjunction with foot orthotics, can help remove pressure from sensitive or at-risk sensitive areas of the foot.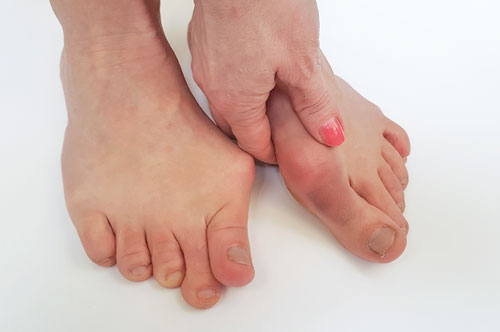 Custom shoe modifications are key to helping those who require custom shoes because of advanced foot conditions including toe or forefoot joint deformities or are receiving specialty wound care to make room for an enlarged or painful area of the foot. They also help to realign or rebalance the musculoskeletal system to help control motion and accommodate fixed deformities.
Ready to get started?
Contact us today!
Sole flaring provides additional leverage and helps to control the heel by increasing the base support.
Lateral flare medial stabilizers widen the shank of the shoe and allow a deformed collapsed foot additional room through the mid-foot. Widened shanks help patients who cannot fit into a standard sized shoe. Those with a collapsed foot or diabetes require the additional support and extra room to relieve excessive pressure on their feet and prevent the development of an ulcer.
Medial stabilizers or medial buttresses help patients who require additional support on the inside of the foot. For this modification, the outside skin of the sole is cut and peeled back, and the medial aspect of the shoe is built up with black crepe that is perfectly sized and smoothed. When the shank is widened and the medial part of the shoe reinforced, the outside skin of the sole is replaced to conceal the modifications so the wearer does not feel conspicuous.
Shoe midsole excavations and fills are used for patients who have severe calluses, bony protrusions, or an ulcer. This modification provides offloading and can effectively provide pain relief for these areas.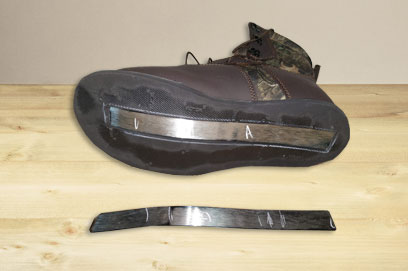 Extended steel shanks make the shoe sole rigid so it will not bend. They limit the range of motion and help to reduce pain in the mid and forefoot joints. They work with a mid heel to toe rocker with help with toe off and heel strike.
A metatarsal bar is a thin, tapered piece of 1/4 inch material added to the sole of the shoe behind the metatarsal head region of the foot that joins the shoe heel. This is a great modification to relieve painful metatarsal heads.
A zipper addition allows easier entry for patients with a brace, a rigid foot, or those who are unable to tie their shoes. Velcro additions, hook and loop additions, and pull-side switch or extensions also allow for easier entry or closure for those who do not have good use of their arms or fingers. A strap extension helps with very wide feet or swelling.